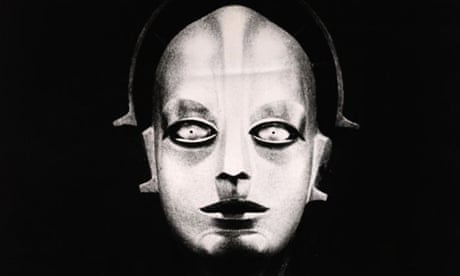 The Guardian.com


Wow gosh golly, what a year 2016 has been. And what a day it has been today. Rarely, I spent the entire day creating. It is wonderful and strange to re-visit that old sensation of exhaustion from a totally different kind of energy expenditure. In contrast the past few months have been so physically demanding, most often under the glare of the sun, getting to grips with gardening in the Mediterranean. Dealing with the dislike of the very thing that motivated me to find a new life abroad was terribly confusing.
I've been back home now in the UK with the folks, for about a month. Sigh of relief. And today the attempts at nesting have finally reached a climax - fairylights in my bedroom, a dinner for the family after a day using lots of the scraps of strange fabrics and materials from the little caves of the past.
It's been so wonderful and nourishing. I've churned out paintings, a futuristic sculpture inspired by the film "Metropolis" (the main image of this blogpost) as well as working on some simple designs for tote bags. The work sprung from inspiration offered by a theme from a friend's future display in her marvellous new gallery space. And so now everything is lacquered in metallic shades and catches the light wonderfully. Even the gelatin. Who knew the brittle leaves of gelatin could lend themselves to couture finishes? Just hoping the moisture of the North keeps at bay or the lucky buyer may end up with a slightly less couture finish...
It's felt so good to loosen the grip on finding the right path, the right job, the right vocation, the right place to settle. I left for Spain originally 4 years ago next month...trained up speedily in London, met my fellow interns (there were 7 of us) then spent 3 months living and working in a new place. That place was Ubeda, northern Andalucia and the rest is history.
I stayed finding any work I could, often sharing cluttered over-stuffed rooms with people from all over the world before finally settling at dreamy intense Sunseed for almost a year. Life-changing indeed..and then time to move on again. And through it all, looking looking looking and hoping for a place to settle yet never feeling settled. Always sizing up the new place for a quiet space to meditate or read or practice yoga. I was driven and determined to find this utopia I'd invented, and riding the gas of idealism. Yet a month ago, that gas began to clonk and chug. I didn't sleep well. My dreams lost their loveliness. I lost my resistance and my happiness for a bit. What was I doing?
It's not just in the eyes of social media that one wants a semblance of light-heartedness and fun; it's natural in any relationship to apply the best face. It's normal as we try everything on for size. During these 3 years of travelling an insane amount of kms and meeting an even insaner diversity of people, there were such life-affirming moments, life-long connections made, wild swimming, parties and of course sunshine galore...but besides those things, just a person and his simple desire to find a place to call home.

I didn't, and so I'm back at home...where I have spent most of my life. Such relief. The white knuckle ride is over.
It all still feels so new especially in the sense that I need to be back at Square One and loosen my idealist grip on finding something out there. Previously I'd never understood when other travellers have told me they've missed their home land but this time, I got it - I felt it in every cell of my body. I was sometimes checking flights on my phone in the middle of the night wanting to return.
And after a drive to simplify, to go low impact, to release all the shackles of the modern world, I've realised that I need them. At least some of them. They created me and while I can be incredibly creative within those limits, I'm understanding why those limits exist. A major theme apparent in many people I met travelling was this sense of finding a new world, cutting ties with the old, sometimes with bitterness or despair. I think everyone can relate to that, at times. But I need to find a middle ground. Familiarity is the umbilical cord to the old world. As well as reaching out for something new, we can be running away and missing the nuances of uncertainty or interpreting them in a specific way which fuels our idealism. I certainly was.

I don't know how long this feeling of 'ahhhh' will last but I know that having such distance from Blighty has made me fully understand how lucky I am, and we are, to live somewhere where water is on tap, trains and buses cheaply take us anywhere, people speak my own language, I am warm indoors and I generally just know where to find everything like stamps or phoneboxes or good coffee...an appreciation of these things to a person who hasn't travelled must sound so cliched and a tad ludicrous. But the exhaustion that ensues when those basic things are consistently being re-arranged is very unsettling.
I used to think that in order to galvanise, toughen up, I had to keep testing myself. I had to keep on until finally, I'd be some kind of spunky modern adventurer that would have no problem with making a bivouac anywhere where I happened upon. I wanted that experience that so many young men crave, (think Brad Pitt's character in "Legends of the Fall"...the wild child who rides horses and takes ships to unknown lands). Fiction after all is today's myth-making and we are all looking to hook into the myth that fits.
Adventure means many things to many people. As someone who lives so much in imagination, through colour, smell, through symbols...and not the type who climbs trees or wild swims in January, I must befriend myself and be kinder, more accepting that crafting, learning, dancing, singing, practising yoga, making music, reading, cooking and studying are my kinds of adventure. That's the cloth that I'm cut from.
Catch examples of my work soon at the delicious boutique, Arcanum, on Market Street in Hebden Bridge.
And...why not order a veg box and collect it from
Veg Box People
at the University of Manchester every Tuiesday? You will find awesome bread there, too, from
Trove bakery
in Levenshulme.